Principal's Message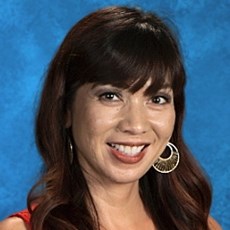 Dear Walton Families and Staff,
As I resume my role as Walton's Principal, I am filled with excitement and anticipation for our continued progress in both academics and socio-emotional growth. It is truly an honor to serve a school community where the energy of an eager student body, dedicated teachers and committed families contribute to overall success.
With 24 years of experience as an educator, I remain driven to serving the personal growth and achievement of each student. I served as a science teacher, district teacher-on-special assignment and assistant principal. Working with 7th and 8th graders continues to be a passion of mine. Transitioning to the teen years is a critical time of life. Your child is full of hope and optimism for the future, while figuring out the physical and emotional changes they are currently experiencing. As a parent, I know the joys and surprises that come with raising teens.
The home-school partnership is essential to supporting the needs of your growing adolescent and I am committed to working with you and being of support. I highly encourage our parents and guardians to attend our Pastries with the Principal events, Wildcat Parent University Workshops and Family Fun Night Events. In addition, I maintain an open-door policy and encourage our families to meet with me to discuss their child's academic growth and overall wellbeing. We are partners in learning.
Please come join me for our first Pastries with the Principal on Friday, August 25th at 8:30AM.
Spanish and Vietnamese interpretation will be available to ensure all families can participate in the discussion.
This year, we continue our great work with our 3 District Goals. We accomplish this through our focus on four key traits. Walton Wildcats R.O.A.R.! Our students exhibit Respect, Organization, Attitude and Responsibility in all facet of their school life.
Our commitment to our families is straightforward:
Walton Educators will continue to provide high-quality and engaging lessons. (Goal 1)
Walton Educators will continue to provide explicit instruction on scholarly habits, including school expectations. (Goal 2)
Walton Educators will continue to support the needs of the whole-child through development of socio-emotional skills (SEL). SEL skills are needed to develop healthy identities, maintain positive relationships and responsible decision-making for future success. (Goals 2 & 3)
I am truly honored to continue serving the Walton community. My main responsibility is to support our teachers and parents so they are in the best possible position to help our children succeed. I look forward to meeting all of you and please do not hesitate to contact me with any questions, concerns and/or ideas you would like to share. You may reach me at astirone@ggusd.us or 714-663-6040. I look forward to another productive year!Best Regards,
Best regards,
Mrs. Stirone
Principal